Tucked somewhere deep inside the rows of fresh trees filling the Anderstrom Tree Farm of Roberts, is a manger just waiting to be found by visiting families. This tree farm has been a labor of love for Al and Joyce Anderstrom and they hope area families enjoy searching for a tree and for a small piece of the real celebration of Christmas.
Al grew up on a dairy farm. He was in business over the years with the farm Cooperative system. At age 50 he felt called into the ministry and resigned from his job to become an associate pastor at a church in Woodbury, MN. After a few years his work changed to helping international ministries, but was able to be based in the U.S. Joyce said, "Even though we lived in the suburbs, we always hoped to live in the country again someday. Four years ago we found the perfect place near Roberts."
When the Anderstroms moved to the property, many of the trees were just a couple of feet tall. "After a few good growing seasons, we needed to make a decision of letting them grow into a forest or do sustainable harvesting at about 8' tall and then replant," they said. To make it more manageable, they sold many trees this summer to clear part of the land and turn it back into farmland. They said, "There are hundreds of happy trees living in many yards around the area. It's nice to know they went to good homes." The trees that remain will eventually be sold as Christmas or landscaping trees and then new trees planted in their place.
Al is the main caregiver of the farm with some help from Joyce. He runs the tree spade, keeps the mowers ready to go, digs up damaged trees, waters new trees and does most of the pruning. Joyce helps with the mowing. Their family came out last spring to help plant. "We don't pay them, just feed them. We hired a college-age friend to help with heavy lifting of trees that Al dug out with the tree spade. We pay and feed him," Joyce said with a smile.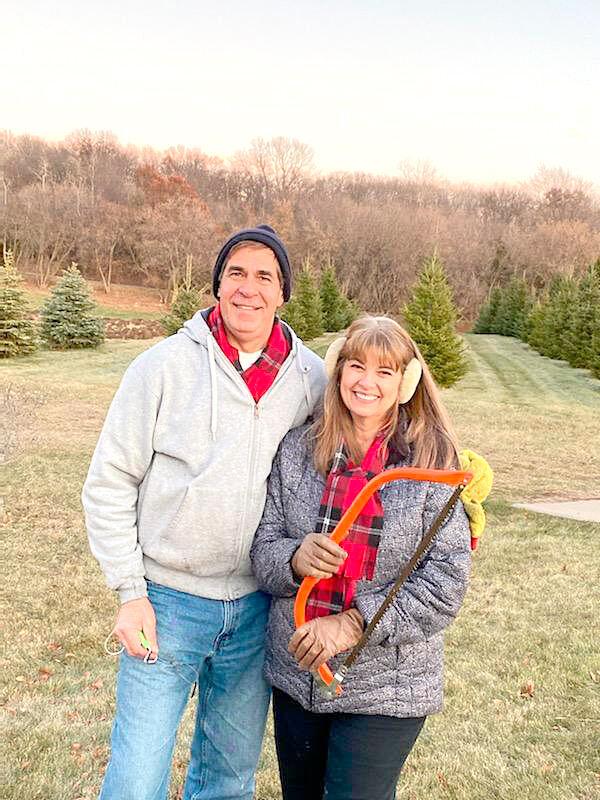 The Anderstroms said Evergreens are a labor of love. Much love goes into planting and caring for a tree until it is ready to be a Christmas tree. There's a lot of watering, weeding and mowing to give them a good start. Then they need to be protected from deer and drought and grandkids learning to mow. They said, "We have nice grass between the grid of trees and that takes double mowing, but it is beautiful. After supper in the summers, we watch the sunsets while mowing until dark - never bothered by mosquitoes here. Every year we make the rounds with our pruners and carefully nip extra leaders on top and shape the sides. We've really come to appreciate the beauty of evergreens. We enjoy being out in them. Our favorite time it to walk among the taller trees while it's snowing. It's so quiet and it feels majestic to see them point heavenward."
Last year families were enjoying the full experience of two feet of snow and this year it has almost been shirt-sleeve weather on the Saturdays they have been open. "Families tend to take their time and enjoy being outside. No one is in a hurry. They are making memories and it's fun to help them. We see races, hide-n-seek, tag and even a family dance circling around the tree singing "Joy to the World" when they find their perfect tree," they said.
They think families are around home more this year and able to have the time to enjoy a real tree. They said, "We've seen about a third more families coming out. We are open on Thanksgiving Friday and then on Saturdays. We don't have a website, but you can contact us at joyce@anderstrom.com. We are two miles NW of Roberts. 1056 110th ST. Roberts, WI." The last Saturday of business this year is December 19.
The Anderstroms said, "So many places at Christmas time have absolutely nothing to do with the real celebration of Christmas. Stores have reindeer, Santas and snowmen, but nothing that would be a symbol of God sending His Son to be born 2000 years ago to be the Savior of the world. It's a pretty historical event and we want to help families communicate that to their children.
We have a manger hidden in our tree farm. Next year it will be in a different spot for returning customers. You do not have to get a tree to visit the manger.
We point to the star over the orchard gate and tell families if they follow the star they may find a manger hidden there. We have a family gift ornament as a remembrance of their quest." In the manger there is a message that says,
You have found the manger.
You are blessed if you have also found the Savior, Jesus Christ,
who was born in Bethlehem 2000 years ago.
Wise men searched for Him back then
as they followed the clues in Bible prophecy.
700 years before Jesus' birth, Isaiah prophesied in the Old Testament
that the Messiah, the Savior, would be born in Bethlehem.
We can find Him, too, as we look in the Bible
and the redemption from our sin that He offers to us
As Linus says in the classic Peanuts Christmas program,
"And that is what Christmas is all about, Charlie Brown."
Even tree farmers and newspapers can say that!