If you would have asked anyone 365 days ago, it is doubtful they would have been able to predict what 2020 had in store. There certainly were challenges, but like any other year there were also triumphs. When readers were asked what they would like to see for Baldwin in 2021 answers included everything from Taco Bell to more kindness. When we look back a year from now, we will see what wishes came true. Until then, here is a look back at the past twelve months:
2020 is going to be a big year for Baldwin Lightstream.
Last October, the business announced plans to upgrade the copper and coax plant facilities in the villages of Baldwin and Woodville in 2020 to fiber optics.
January 27 was the last of three informational meetings the business held explaining its plans. Between 20-25 people were in attendance at the Woodville Lions Den.
Matt Sparks, Baldwin Lightstream General Manager, explained the why.
"Copper facilities are nearing the end of life," he said. "And coax facilities have been here since the early 1980s."
Fiber optics, he continued, provide the bandwidth customers need for online gaming, streaming content, using smart home devices, medical monitoring devices and more. High-speed internet will allow customers to download an HD movie in less than 30 seconds and hundreds of songs in three seconds.
They also increase the value of the home by approximately 3.1 percent.
"If it doesn't have fiber, it isn't selling," he added.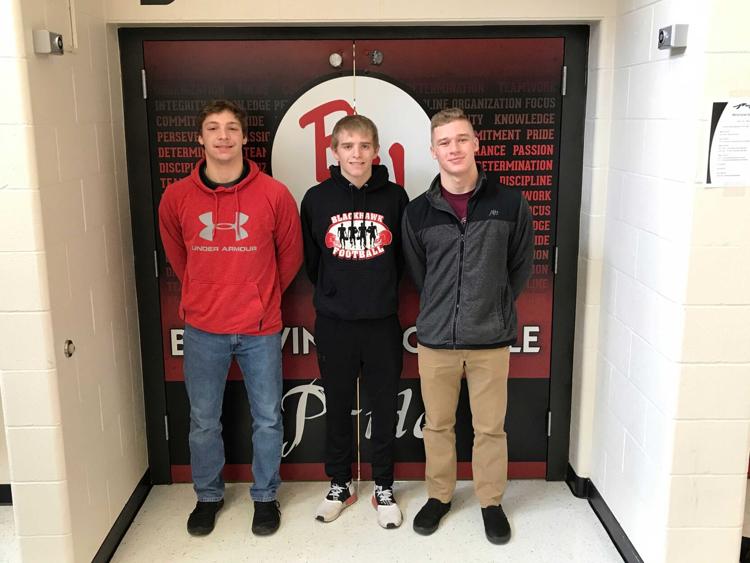 Baldwin-Woodville advances three wrestlers to state
The Baldwin-Woodville wrestling team advanced three wrestlers to the 2020 WIAA Division 2 Individual State Wrestling Tournament at the Kohl Center in Madison.
Jordan Bonte was a section champion at 126 pounds Saturday at the Osceola Sectionals. He earned a first-round bye and will face the winner of Wittenberg-Birnamwood's Chad Moegenburg/Prairie du Chien's Luke Kramer around 11:15 a.m., Friday in the second round. He brings a 30-5 record to Madison. Bonte qualified for state last year and took fourth at 182 pounds.
Blaine Guthrie (36-6 overall) also earned a section championship at 182 pounds. He, too, earned a first-round bye and will wrestle the winner of Monroe's Alex Witt/Chilton-Hilbert's Kaiden Mikalowsky in Friday's second round. This will also be Guthrie's second trip at State. Last year, he went 1-2 at 182 pounds.
Max Ramberg earned a third place finish at 170 pounds. He will wrestle Berlin's Brady Wagner (28-11) around 7:15 p.m. Thursday in the first round.
Wisconsin Governor Tony Evers mandated Friday, March 13, the closure of all public and private Wisconsin schools, effective 5 p.m., Wednesday, March 18, with the anticipated reopening Monday, April 6.
"Based on the assessment of the information available regarding the infectious disease, Coronavirus Disease 2019 ("COVID-19"), closure is a reasonable and necessary step to prevent, suppress and control this disease," said Andrea Palm, Secretary for the Wisconsin Department of Health Services in the order. "To prevent further illness, the schools will be closed until the aforementioned anticipated date of reopening."
The Woodville Lions Club made the announcement in a 276-word-post on its Facebook page Sunday afternoon, nearly two months before the event was held.
"We are extremely disappointed that this decision had to be made, but we are confident that for our community and for our club, the right decision was made," the post read.
Lions Club President Don Timmerman explained discussions started in earnest Friday when members were on the phone with local and regional health care professionals.
"Based on what they are hearing from the CDC (Centers for Disease Control and Prevention), the health care people thought it might be prudent to cancel festivities for this year," he said. "This move wasn't made out of panic or fear. The health care officials are just unsure how this whole situation is going to play out."
B-W voters pass referendum and elect positions
The pool is coming back to the Baldwin-Woodville School District.
Monday's election results from the referendum, which included construction of a new pool with a dome and refurbishing athletic facilities, had a final total of 1,793 'yes' votes to 703 'no' votes
The referendum received strong support in the village of Baldwin, where the tally was 788-230 in favor. Village of Woodville voters were also strong supporters as 231 voted 'yes' to 61 'no'.
Matt Knegendorf and Chad Wernlund are returning to the Baldwin Village Board.
The pair generated the most votes as Knegendorf finished with 614 and Wernlund with 554.
They are going to be joined by newcomer Austin Van Someren, who finished third with 530.
Tracey Robinson was fourth with 371, while Jaimison Zaugg earned 132.
Incumbents Brad Coplan and Jay Larson are returning to the Baldwin-Woodville School Board after Monday's election results.
Coplan finished with 1,755 votes, while Larson had 1,670 votes. There were no challengers.
In District 16, incumbent Paulette Anderson won another term to the County Board as she defeated challenger Brandon Perry 590-378.
In District 18, Shelly Tomtschik finished with 890 votes, outlasting the write-in campaign from Jerry Van Someren. She will be replacing Nancy Hable, who chose not to seek reelection.
Erika Jordahl, Mark Lallemont and Kellie Holm all won seats to the Woodville Village Board. Jordahl earned 212 votes, Holm finished with 195 and Lallemont had 192.
Chris Buckel, Lynn Pabst and Howard W. Evans all won seats to the Hammond Village Board. Buckel earned the most votes with 284, Pabst had 253, while Evans finished with 182. Mark Benton was fourth with 165.
Kent Wynveen and Paulette Anderson return to the Town of Hammond Board. Wynveen finished with 359 votes to Anderson's 330.
Don McGee was elected Village Judge for Baldwin. He earned 868 votes.
Jill J. Karofsky defeated incumbent Daniel Kelly to win a seat on the Wisconsin State Supreme Court.
Taste of Baldwin Windmill Days 2020
Inaugural celebration Wednesday, June 3-Sunday, June 7
The B-W Cahmber said, "This is not the Windmill Days inaugural event we had planned but we are committed to promoting community in these difficult times. Thank you to the community for your understanding and grace you give this new committee as we had to adjust during this time of unknowns. We had a great event planned that we can't wait to share with you next year, then to no event and then to a modified event. We feel this modified event, will still be fun for this community."
St. Croix County Health Officials confirm first death due to COVID-19
On June 15, St. Croix County Public Health Officials confirmed the first death of a St. Croix County resident due to COVID-19. The individual who was receiving treatment at a hospital in the Twin Cities metro area was 74 years old, had an underlying health condition, and had been hospitalized for several days. Additional information about the individual's death, the name of the hospital, and city of residence will not be disclosed.
"We extend our heartfelt sympathies to family and friends during this time of loss. We must all work together to prevent the spread of this virus, especially to our most vulnerable residents," said Patty Schachtner, St. Croix County Medical Examiner.
"We are saddened to lose a member of our community to COVID-19. My deepest sympathies to the loved ones during this difficult time. This death reinforces the seriousness of this disease. Without a vaccine and with limited treatment options, preventing the spread of COVID-19 is our biggest priority," said Kelli Engen, St. Croix County Health Officer.
Baldwin-Woodville School District releases its Class of 2020 Virtual Graduation
Thanks to the COVID-19 pandemic, schools were closed since mid-March, resulting in cancellations for such end-of-the year traditions as spring sports, Prom and the large-scale Graduation. Baldwin-Woodville has scheduled an in-person ceremony July 25 at King Field for graduates and their immediate family only.
The 53-minute ceremony started with nearly five minutes of photos of the graduates before going into speakers.
First up, was Class President Madison Peterson.
"These years in school went by so fast and yet are so full of memories," she explained. "I don't think any of us thought this would be how we would graduate."
Peterson talked about those memories such as Homecoming, Pep Fest, or on a personal level talking dairy cattle with Mr. Perkins.
"It may not seem like it, but this pandemic will make you a stronger person," she concluded. She also asked her fellow classmates to stay connected and check up with each other.
Cleanup from storms that ravaged Baldwin area
Rain was projected for the Baldwin area Sunday night into Monday morning.
What occurred surprised everyone and left the surrounding area decimated which may take months to recover.
Caleb Grunzke, Meteorologist for the National Weather Service in the Twin Cities, said Baldwin received 8.22 inches of rain in an estimated 15-16 hour span.
"The amount was definitely a surprise," Grunzke said. "…It was a slow moving storm which stayed over the Baldwin area for the longest period of time. That's why they got the most."
The town of Emerald actually received the most with 9.13 inches of rain.
Grunzke added the storms covered a wide area ranging from Mankato, Minnesota, all the way through Eau Claire.
The end result brought many forms of public safety together — Police, Fire, EMS, Highway — to combat the natural disaster.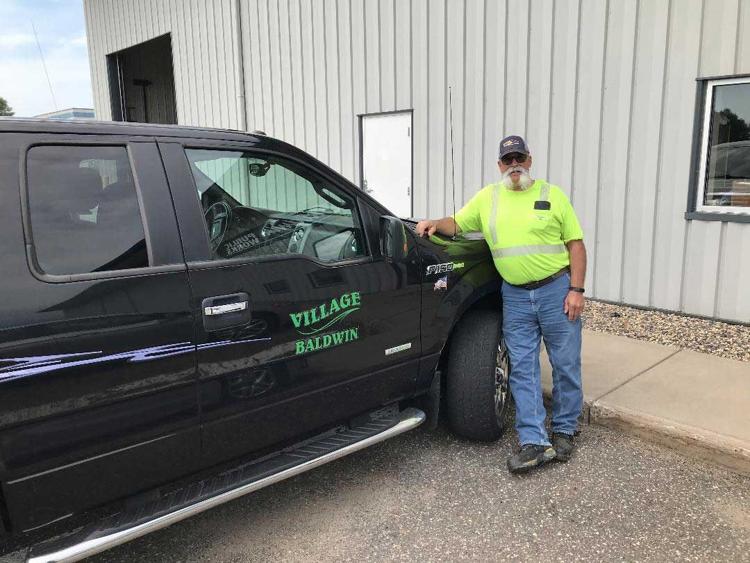 Traxler retires after 45 years with the Public Works Department
John Traxler turned 65 in January and could have retired then and there.
After more thinking, he thought what could he do to fill his time during the winter months?
The longtime Baldwin Public Works Director reconsidered and decided his last day will be July 15, which is somewhat significant, considering his first day at the department was July 15, 1980.
"I don't know if I liked anything better," he explained. "It's been a great job."
The Baldwin native went to school for automative mechanic/body work, but it didn't jive with him. Thanks to family connections, he got a job as summer help for the Public Works Department in 1980.
B-W School Board approves reopening plan
Baldwin-Woodville students will be heading back to school on Thursday, August 27.
In the reopening plan, which was approved, students will be going back in-person. There will be an online option for students who have a health risk or are uncomfortable attending.
The first day will be for grades K-6 and 9th grade. Superintendent Eric Russell said students in grades 6 and 9 weren't given a transition/orientation day last spring, so Thursday will be that opportunity. Students in grades 7,8 and 10-12 will go back on Friday, August 28,
The reopening plan was developed from guidance from St. Croix County Public Health, the Wisconsin Department of Public Instruction and the Centers for Disease Control and Prevention, along with feedback from the school board, staff and parents.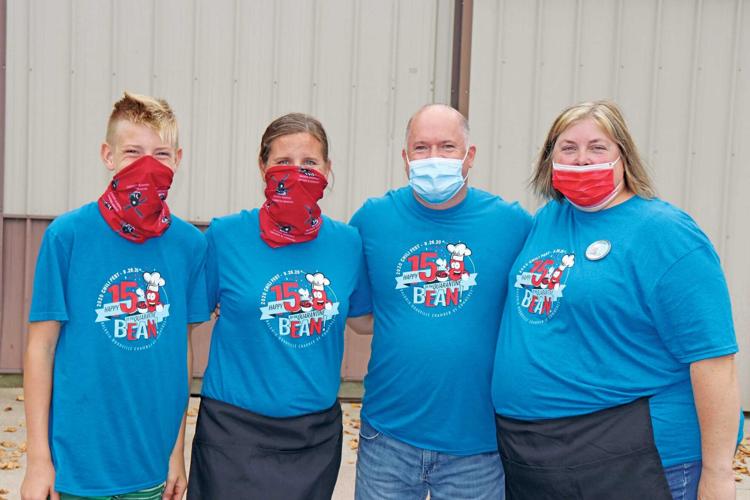 Celebrating year 15 with the Quarantine Bean
This year for Baldwin's Chili Fest, participants went online and registered for their drive-thru chili meal.
The meal included chili samples from A&W, Baldwin Perk, Culvers, Nilssen's Foods and the Phoenix Grill.
The BW Chamber has worked hard to make this event happen. According to their website, since 1982 the mission of the Baldwin-Woodville Chamber of Commerce is to be a membership organization dedicated to meeting the identified needs of the Baldwin and Woodville area by fostering economic opportunity and a favorable business climate within the region.
"The Chamber is privileged to work with local area businesses, the combined Baldwin-Woodville Area School District, the Villages of Baldwin and Woodville, and the community members that make our towns simply amazing."
One the favorite parts of Baldwin-Woodville communities, is the excitement to enjoy and participate in both Baldwin and Woodville's town celebrations.
Over the summer Lexi Everts watched as local teacher Jen Schommer lifted her wheelchair-bound son Gabe, into the family's van. When Mrs. Schommer couldn't lift the power chair into her cargo area without help, Everts jumped into action in more ways than one. She decided that the Schommers needed a handicap accessible van. Since Gabe has surpassed his mom and sisters in weight, it has been an ever-increasing challenge to get him into their vehicles. It is also important to the well-being of Gabe to foster independence.
When Everts brought this to the attention of Roxi Wakeen, she knew that for the health and well being of the family, she needed a fundraiser to support them. Everts set up a GoFundMe page for the family.
The family was blessed by the help of friends, co-workers, former students and students' parents, community members, church members, and Knights of Columbus of St. Mary's in Hammond, Father Jerry Harris and the staff at St. Mary's parish and to the many people who chose not to share their names. The family is grateful for the overwhelming support; they are happy to share that the help and God's guidance has allowed them to purchase a handicap accessible van for the Schommer family.
Absentee voting setting records
By the end of September, voters in some states including Wisconsin, North Carolina, Florida and Michigan had already requested more ballots than pre-Election Day votes were cast in all of 2016. Locally, Baldwin absentee voting requests had also been on the rise.
As of October 13, absentee applications filed and ballots sent for Baldwin were 727. Of these, 358 have been returned. Village Clerk Tracy Carlson said, "Voters have until 8:00pm on Election Day to return the ballot; however, we are encouraging voters to return their ballot early to ensure that it's received before the deadline. Ballots can be returned by mail (a self-addressed stamped envelope is provided and it must be RECEIVED by election day). They can also be dropped off in person or deposited in the drop box outside the main entrance to the municipal building."
Carlson said during the 2016 Presidential Election, the village issued a total of 478 ballots, including the mailed ballots and including two weeks of in-person absentee voting, which this year has not started yet.
The COVID-19 pandemic is a large reason for the increase in absentee voting and has created issues of a lack of poll workers in some communities, but that is not the case in Baldwin. The village has enough poll workers and intends to take precautions to keep voters safe.
Wisconsin residents receive election results
Local winners were declared the night of the election included Republican Tom Tiffany, who won the U.S. House-District 7 race with 251,998 votes over Democrat Tricia Zunker's 162,724.
In State Senate-District 10, Republican Rob Stafsholdt defeated Democrat Incumbent Patty Schachtner with 61,889 votes over her 41,211.
Republican Clint Moses will now represent State Assembly-29. He won against Democrat John Calabrese with 18,958 votes over Calabrese's 12,521.
The Village of Baldwin saw a total of 2230 voters with 1163 voting absentee. There were 228 election day registrations.
Saturday November 7, Joe Biden was announced as President-Elect of the United States, winning the battleground state of Pennsylvania to reach the 270 votes needed to secure a majority in the Electoral College. President-Elect Biden also won Nevada, Wisconsin, Michigan and Arizona, according to race calls by the Associated Press. President Trump carried Florida, Texas, Ohio and Iowa.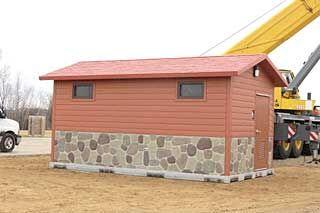 Park bathrooms were installed
Park bathrooms were installed at Heritage Park, Millpond Park, and Creamery Park. In August the Baldwin Village Board voted to purchase pre-assembled bathrooms. The board voted to pay for restrooms with the $200,000 that has been allocated for a park shelter and to use remaining to put towards a future shelter.